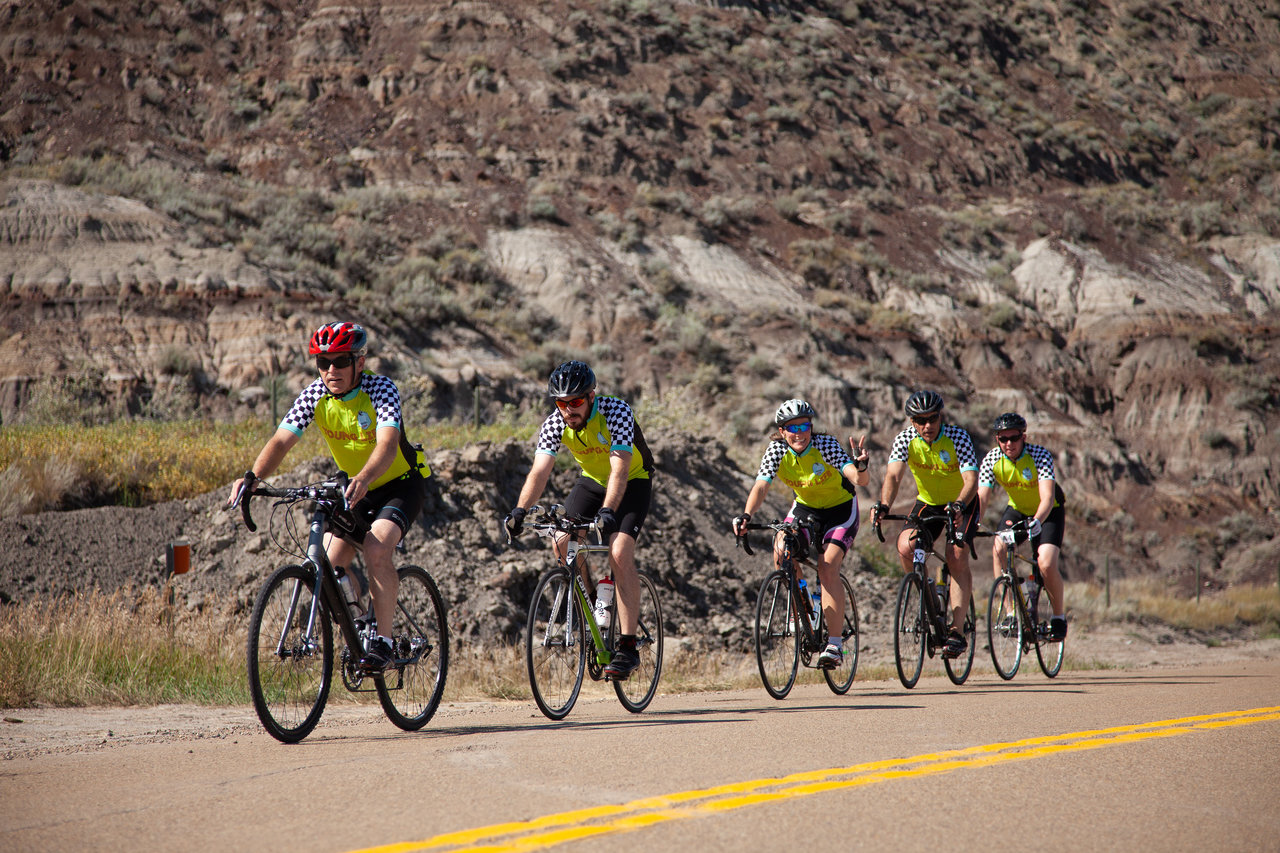 What to Expect
This years Jurassic Fondo is a bit of a "choose your own adventure". We have mapped out three routes around the city of Calgary to roughly match three of our distances from Drumheller, the 50 km, 80 km and 130 km routes. They largely use City of Calgary bike pathways, and / or bike lanes. There is no official start or finish line, so jump on one of these loops where it makes the most sense for you. Feel free to use our pre-mapped routes, or pick another day ride to meet your km goal!
What's Provided
There will be two support stops that are common across all 3 of our pre-mapped routes, one next to the Weaselhead parking lot, and one next to the Bow Valley Ranch Restaurant in Fish Creek. These will be stocked with some water, snacks for the road, and spare tubes and will be manned from 9:00 am to 4:00 pm. On the evening of Friday September 11th from 6:30 – 8:30 pm we will have a race package pick-up and meet and greet at 1308 70th Avenue SW. Drop by anytime during this window to pick up your Jersey and race package, grab a bite or something to drink and catch up with your fellow riders and friends.
What to Bring
The ride this year does not come with the same level of support as previous years, but it does have the convenience of being in the city. You will want to start fully stocked with water, snacks, spare tube(s), mini bike pump and your phone. If on our longest route, or something comparable, you may want to bring either some cash or a card in case you want to stock up on any supplies once outside our supported sections.
Timeline / Day of details
Once you've stopped in Friday night to grab your jersey and race package, the day of the ride is up to you! If you want to beat the heat (and winds) starting earlier is always helpful.
Our two support locations will be manned from 9:00 am – 4:00 pm. Saturday isn't the best day for you to ride this year? Go for your ride on Saturday? Want to get off the road and spend the day in the mountains? Grab your mountain bike and gain some elevation.
Whatever you do, and whenever you choose to do it, make sure to record it on an app like Strava, and take some photos or a short video. Then send that info our way and we will compile it with everyone else who rode this year. If you are riding one of our 3 pre-mapped routes in the city, keep an eye out for our videographer Matt.
Route Maps
Your Impact
We can't thank you enough for riding in this years Fondo to support the work that Young Life does in the lives of teenagers in Alberta. The KM's you ride, and the money you raise will directly translate into caring adult mentors coming alongside teenagers in a challenging time in their lives. Thank you for investing in teenagers in Alberta.